History
The history of the Viña Segu began in 1924, when the brothers Jaime and Antonio Segu Monso, Spanish immigrants from the Lerida province in Catalonia, founded the company "Sociedad Segu Hermanos" for the sales and distribution of Chilean wines.
Years later, in 1936, the company purchased the farm known as "Mirador" including vineyards and a wine cellar, located in the Melozal Valley within the Maule Valley, and thus began their own grape and wine production. In that same year, José Olle Segu, nephew of the founders, joined the company. In 1949, this new company, purchased a farm known as "San José de Caliboro", also located in the Melozal Valley.

The following year, being satisfied with the quality of the wine elaborated and with the productivity of the piece of land they discovered, the Segu company inaugurated the expansion of their wine-making cellar, equipping it with new grape crushing machinery and wine storage vats. The following years were marked by the constant effort of the Segu family to modernize the production techniques and to innovate the technology as the new times required, with the objective of producing outstanding quality wines for the international market. Today, Segu wines are exported to the demanding foreign markets of America, Europe, and Asia, with great success.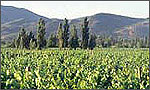 Segu vineyards are located in Maule valley, Melozal, 300 kilometers south of Santiago. Segú has 190 hectares of grapevines, 75% of which are planted with red varieties while the remaining 25% are dedicated to white varieties. The predominant red varieties are Cabernet Sauvignon, Merlot, and Carménère stock, while the white varieties are mainly Chardonnay, Sauvignon Blanc, Riesling, and Gewürztraminer.
The Mediterranean type climate, corresponding to 2.5% of the world's surface, is characterized by a rainy season between April and October (annual average of 700mm) and a dry season between November and March. The average annual temperature is 14.9 C° with no spring frosts, and with a temperature oscillation of 20° C during the summer months, with 12° C minimum and 32° C maximum temperatures. These climatic conditions have allowed for the excellent establishment of the grapevines and the maximum expression of their potential. Characteristics such as fruitiness, distinct variety character, and balance are common in our wines.
The red wines display an intense color and high polyphenol and anthocyanin content, all aspects determined by Melozal's microclimate. The vineyard soil belongs to the Caliboro area series corresponding to terrace remains originating from granitic sediments contributed by the valley's surrounding hills. Its texture is non-rocky fine clay, and it is not very deep (50 cm) with slow permeability, which allows for the balanced vegetative development of the vine, all very important aspects in the fruit quality and in the final results obtained in Segú wines.
Located in Melozal, in the Maule Valley, the oldest building of Viña Segú's wine making cellar was built in 1936. At that time, the traditional cellar was inaugurated with 20 rauli vats, with an average capacity of 35,000 liters each. Today, 65 years later, those vats still exist. The Segú family has preserved them as cultural and historical patrimony and as a faithful witness to those early days. The new facilities include stainless steel vats, cement receptacles with epoxy lining, and French and American oak barrels.
The technology used in the modern processes include: state-of-the-art grape stem remover and crusher, reception chutes, conveyor belts, industrial cooling equipment, pneumatic press, cold interchangers, filters, and modern pumps. In addition, we have highly specialized staff committed to the art of making outstanding quality wines.

Joven – is young wines ready to consume, sold and consumed during first two years.
Sin Crianza – is of similar category as Joven, but it should not be necessarily sold within first year, as it matures in bottles

Cosecha – Varietal – is higher category of maturing. The wine can mature for several months in barique barrels and then in bottles. It is the same as Semi Crainza, so called partial maturity in small barique barrels.

Crianza-Reserva – means matured in barique barrels. It concerns red wines mad of selected grapes which matures minimum 6 months in oak barrels, or so called bariques.
Reserva – is a category for selected red wines from best years. They mature minimum 12 months in new barique barrels made of French or American oak.
Gran Reserva – is a category for selected red wine from outstanding years, which mature minimum 24 months in new oak barrel and several years in bottles. There are Gran Reserve wines which mature in barrels 48 months in barrels and then in bottles.
Fermentado en barrica – is a category of white wines matured in barique barrels.